Presentation
Tour
Videos
Press
Pro Space
Presentation
January 3, 2022
So Karlijn, at only 26 years old, you have a very nice career, your first album "Leap of Faith" in duet with Tim Urbanus in 2015, you win the first prize and the audience prize at the "SAI Acoustic Guitar Competition" in the Czech Republic November 2015, your first solo EP "Luna" in July 2017, finalist for the "Acoustic Guitarist of the Year 2018" competition in London, a new album in duet with Ladislav Pazdera named "MERAKI" in December 2019, MusicRadar placed you 6th in the Top 10 of "Acoustic Guitarist of the Year 2020", you received the sponsor prize at the "European Guitar Award" in January 2021, you also shared the stage with Tommy Emmanuel and Peter Finger and has toured across Europe, China, Japan and India. How have you lived for the past six years?
The past years have been amazing and I could have never dreamed to accomplish all this! But honestly, these prices and awards aren't the most important – it's being able to do what I love: playing guitar and composing. Also collaborating with other people, write music together or perform on stage is something I really like to do. Apart from that, I very much enjoy all the travel that came with touring and seeing so many different cultures. Having interesting experiences all around the world gives me lots of inspiration for new music.
I always tell myself that to be at such a level, whether in sport or in music, it requires a lot of work and rigor, you have to play a lot of hours a day even with innate talent
Tell us a little more about your daily program. Did you spend your free time on the guitar or did you have a life as a little girl who played with her friends?
Actually I don't play guitar as much as people think. I just pick up my instrument when I feel inspired and motivated – sometimes that is a few hours a day, but at other times that is only once a week. It all depends on how I am feeling and I am trying to not make the guitar feel like a "job" but keep it a passionate and fun thing through which I can express my emotions. Aside from playing there are many other things to do like creating scores for my songs, booking concerts, planning music videos and albums, staying healthy, exercising, and of course answering interviews I also started teaching regularly a couple years ago, that is lots of fun!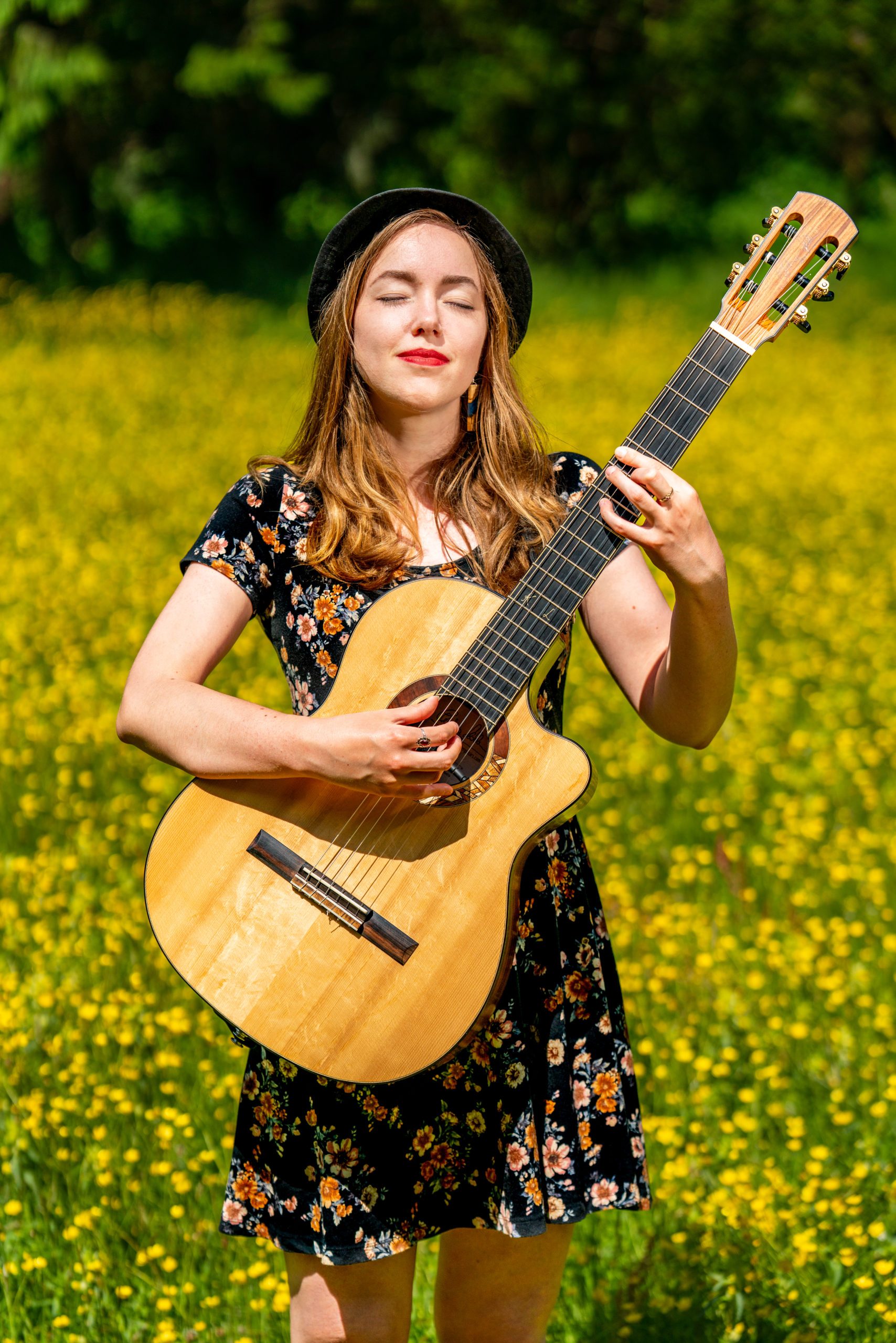 How old were you when you started playing guitar and how did it happen?
My father was a guitar player and while I was still comfortable in my mother's womb, I already heard his playing all day. But I didn't start playing seriously until I was 13 years old. My father showed me some videos of Tommy Emmanuel and I remember going up to my room and trying them out on my crappy guitar that wasn't even able to go down to a drop D tuning. I started to practice day in and day out and ended up learning all of Tommy Emmanuel's repertoire. But I somehow always had this goal in mind that I wanted to write my own music and travel the world playing concerts.
Do you play another instrument or would you like to play another or do you think it would be an infidelity to your guitar? 😀
Haha, I think my guitar would get a little jealous! I used to play a bit of piano, but I am not actively practicing that anymore. But sometimes when I compose something new I start on the piano, just to have a "clean slate". It gets me out of my comfort zone and try out new things that wouldn't come to me so quickly on the guitar. Also it helps to write music that isn't too "guitar focused" but that would sound good on any kind of instrument. That, in my opinion, is good music.
You play mainly on classical and acoustic guitar, do you plan to play another style one day like electric guitar?
I like the classical and acoustic guitar the most, because I feel like I can express myself the best on those instruments. But I do own other string instruments like electric guitar, banjo, lapsteel and mandoline. I sometimes play them for fun, and it's really nice to come up with new ideas and riffs. But I'm not sure if I would ever play the electric guitar live for example – I just love the "acoustic" feel the most!
What are the musical styles that you listen to on a daily basis?
I love to listen to film music like Philip Glass and Gustavo Santaolalla, but also very much enjoy piano music of all kinds, for example Satie, Chopin and Lambert. Apart from that I like to listen to musicians like Stevie Wonder, Glen Miller and Frank Sinatra.
Musicians, artists that you idolize?
A guitarist I highly enjoy listening to is Reentko – he was one of my teachers when I was studying in Dresden, Germany. Besides that I love the music of Gregory Alan Isakov. And of course I can't forget my youth idol Tommy Emmanuel.
What is your fondest memory as a musician today?
There are many wonderful memories, but if I have to choose one then it is playing guitar together with my father when he was still alive. That is a memory I keep in my heart dearly.
What can we wish you for the future?
I am currently working on my solo album which will be out on 11th March 2022 – stay tuned!
Tour
Videos
Press
Pro Space