Presentation
Tour
Videos
Press
Pro Space
Presentation
Born after years of research, Histoires de Guitares is a unique show that has since travelled throughout France and several European countries, during festivals, cultural seasons and meetings in schools and conservatories.
Surrounded by 25 to 50 guitars, all different and of great lutherie, Gaëdic Chambrier proposes a musical journey through the ages and cultures of the world, from prehistory to futuristic carbon instruments.
Each model is played in situation, illustrated by a piece of music related to its historical or cultural context and to its own repertoire.
You don't need to be a specialist to enjoy the show, which is full of anecdotes, interactivity and humour. All this complements the music, with the audience alternating between active listening, discovery and laughter.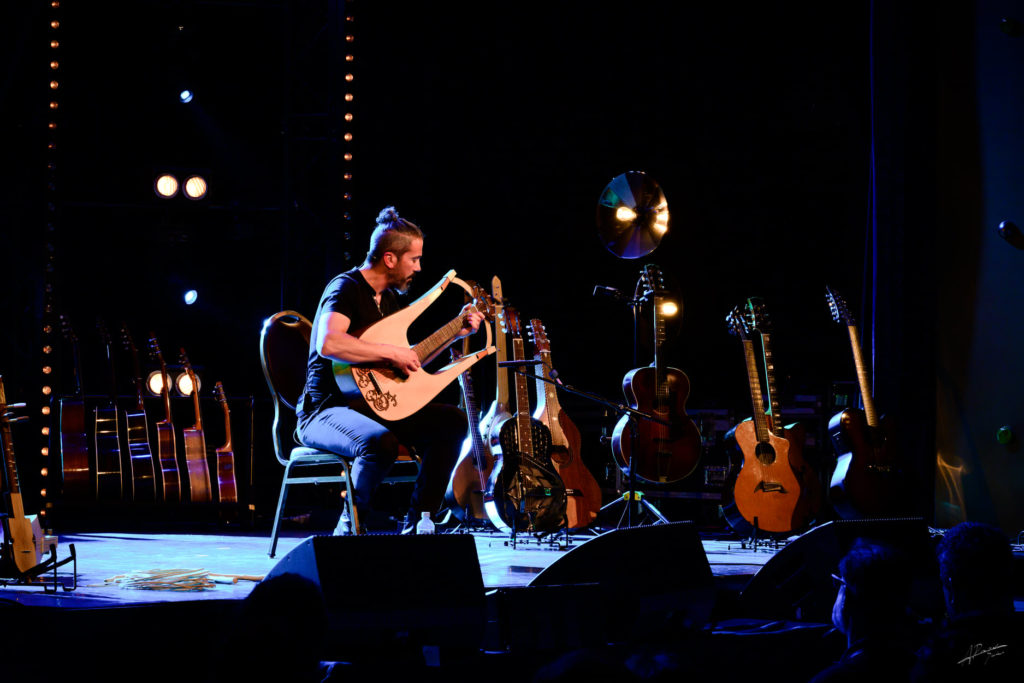 Concert: a feast for the eyes and ears! A pure moment of happiness made of music, knowledge and passion.
Exhibition: The incredible talent of the luthiers and the delicacy of the details are revealed to our dazzled eyes.
Masterclass : Gaëdic Chambrier draws from his polymorphic experience a unique approach to the guitar. A fine pedagogue, he has the art of opening the field of possibilities to more academic guitarists…
Conference : It is intended to give an overview of the history, development and influence of the guitar, in a relatively short time, with the help of audio/video recordings.
Bois de Musique: An exhibition in 15 wall panels which (with the help of photos, drawings, diagrams, maps and graphs – all accompanied by explanatory texts accessible to all ages from CP onwards) allows you to discover all the stages from the tree to the instrument, to learn what a sound is, to understand the functioning of a musical instrument and to measure the extent of the ecological challenges posed by the overexploitation of the forest environment, among many other things!
Tour
Videos
Press
Pro Space