Presentation
Tour
Videos
Press
Pro Space
News
Presentation
September 4, 2021
Éléonore, was it the nyckelharpa that brought you to play traditional Swedish music?
Éléonore: No, it's the other way around: I fell in love with this music during my violin studies. At the same time as a traditional Swedish music workshop in which I participated, a nyckelharpa workshop was held-it was in 1999 or 2000. There, among others, I met a nyckelharpa player with whom we played – as a duet and, a few months later, I got her rental instrument and bought all the records of traditional Swedish musicI could find , learning most of the pieces. I tried to meet the few fans of this type of music in France, who organized a training session every summer and had invited Swedish artists with whom I befriended. They advised me to go to Sweden for training, and I followed their advice. And then I joined the Eric Sahlström Institute in 2003-2004.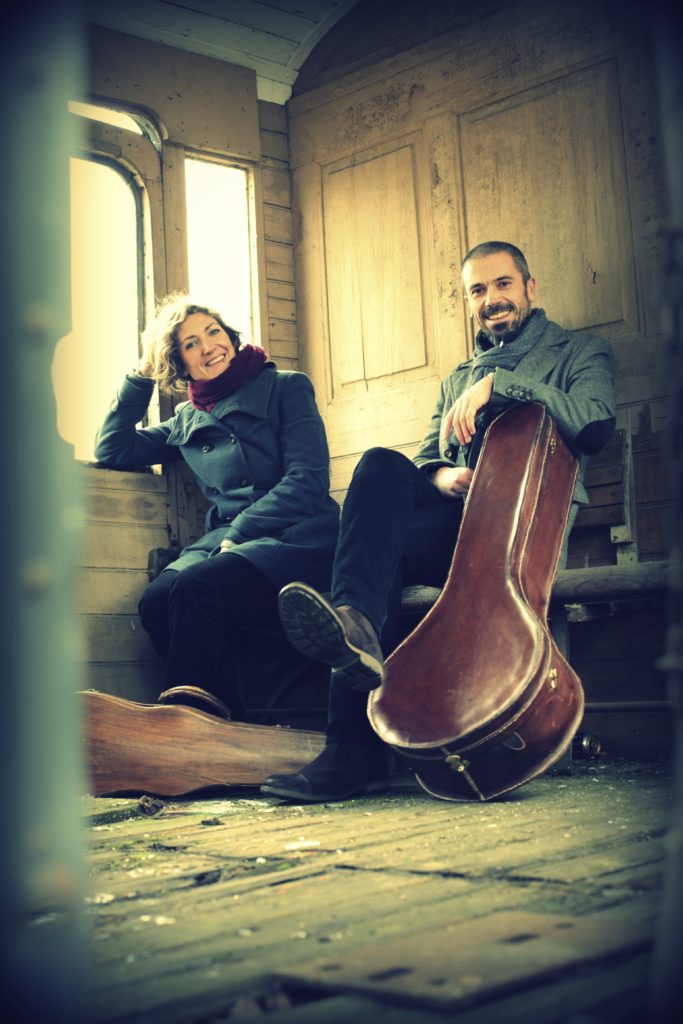 Gaëdic, your musical background is rather different, more rock it seems to me?
Gaëdic: With Eléonore, we don't have the same musical path at all. For my part, I was immersed in rock owing to my family. My dad had been a rock fan since the 1950s, so I had been swimming in this style from a very young age. My mother was more into classical and baroque music. I spent my youth listening to rock, hard rock and metal. The first record I bought was "Piece of Mind" by Iron Maiden. Apart from a few Irish guitar lessons when I was 10, I am self-taught. I spent my time dissecting the playing of my favorite guitarists at concerts or repeating some epic solos note by note again and again. And then one day when I was swimming at the 24h water race in Rouen (I must have been 16), I had an epiphany while listening to an excellent rock band (Nøthing)! I wanted to become a guitarist, full point!!! It put an end to my ambitions as a future geography student..
Before Octantrion, did you have common projects?
Éléonore: We created the group "Drakkan", in the same vein as Octantrion, with a guitarist singer and a percussionist. It was already Scandinavian-inspired music, with our own arrangements. The singer and the percussionist then moved away to Finistère and Drôme, so the two of us carried on: this is how Octantrion was born.
Gaëdic: We preferred to change the name because Drakkan was very much associated with singing and with Syril, the singer, we wanted to avoid any confusion.
(NDLR : Drakkan Live « Marcher vers le Nord", that we find on the album
Vortex
).
Celtic sounds can be found in the music of the North, or vice versa, is Celtic music closer to us than we think?
Gaëdic: Celtic culture, in general, is often in the back of our minds. If our inspirations are essentially Nordic, they are greatly influenced by the Celtic world as well. There are a lot of links between these two worlds, regarding history, culture and religion. Interactions have been documented since the early Middle Ages, and almost identical myths, tales and legends can be found on both sides of the North Sea. It's fascinating!
Éléonore: These tunes have common points, they are popular music, with a regular rhythm, adapted to dancing, feasts and trance.
You take part in Boann's "The Twa Sisters" album
Éléonore: The leader of Boann was looking for a nyckelharpa player in 2004, that's how the group started out. Gaëdic joined us in 2008 and we changed singer a few years later. So we have contributed to Boann's life from the beginning until the last album released in 2020: The Twa Sisters.

(The Elfin Knight by BOANN)
Where does the name Octantrion come from?
Gaëdic: Our musical inspiration comes from the North but goes far beyond. The Septentrion is the Latin name for the big bear which indicates the North. The Octantrion is beyond the North, beyond the Septentrion …
Have you thought about after Octantrion II, the band's future album?
Gaëdic: No, we take things as they come. This does not preclude having a longer term "vision" but here the priority is to ensure the best possible future for this album. (Editor's note: international release October 22, 2021)
Éléonore: We are each involved in several projects we have taken the initiative of doing, which does not prevent us from also playing as accompanying musicians, as Gaëdic does with Cécile Corbel. We each develop our individual projects and we meet for Octantrion, the band where our hearts lie, which creates a nice balance.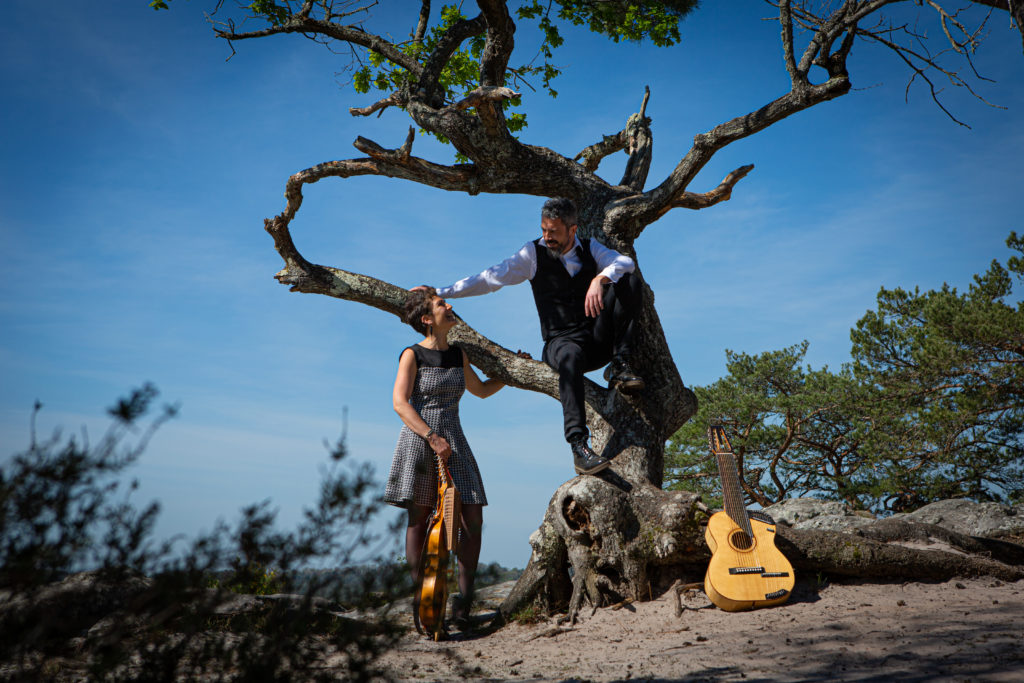 Can you tell us about your album?
Gaëdic: The album is made up of 15 musical tracks. "Element" is played on guitar, nyckelharpa and Celtic harp (by Cécile Corbel), three interpretations of the same theme. None of us knew the version played by the other two. It's very interesting to listen to what everyone has done with it …
"Chaman" is a variation around two pieces from the CD, linked by a tune played on mandocello. It was composed especially for the video of the same name. From music to pictures, so …
"The Dead King" is presented in two forms. One, in line with the arrangements of the disc is accompanied by percussion and double bass, the other, called "radio edit" (Editor's note: version specially adapted to be broadcast on radio) is played with bass / drums. Some pieces follow up others. All in all, there are 9 compositions.
Éléonore: We were also inspired by 4 traditional tunes (dance music or Icelandic medieval music) and we arranged them in the Octantrion way! Around these pieces, we compose complementary melodic lines. There are also songs in Swedish and English.
Who are the artists who participated in your album? Cécile Corbel on Celtic harp, Christophe Piot on drums, Blandine Champion on bass, Julien Lahaye on percussions, Xavier Milhou on double bass and Eric Pariche, an opera tenor, who does the backing vocals on "The dead King".
Tour
Videos
Press
Pro Space
News